So where were we? Oh right, we were at the point where we decided to take the kids back to Gen Con this year. The kids were so excited to go that they started the count down as soon as we bought the badges.
This year Gen Con Housing changed the hotel room booking process. Unlike in previous years where room booking was done on a first come first served basis, this year anyone who had purchased a badge was randomly entered into a queue for access to booking. Sadly, due to my place in the queue I was unable to get a downtown hotel this year. We ended up booking a place about 15-20 minutes away. I was generally ok with this since the room was cheaper and offered us more room, but Ray and I still kept an eye and open for anyone who might be looking to transfer out of a downtown room. Sometime around the middle of July Ray saw a post in a forum from someone who wanted to get rid of a room at the Crown Plaza. The Crown Plaza is great because not only is it downtown but it is attached to the convention centre by a hamster tube. Ray immediately leaped at the opportunity and was able to secure the room. Amazingly, it turned out to be a train car room! The Crown Plaza Union Station is an old train station that was converted into a hotel. They have a row of train cars that are still sitting on the old track that have been converted into hotel rooms. They are pretty awesome. They do tend to be long and very narrow rooms, but there was definitely enough space for a family of 4 and it included all of the amenities of that quality of hotel. The kids were so excited to be able to climb the metal stairs into an old fashioned train car every time they went to their room. It was such a nice bonus in addition to getting a room at a downtown.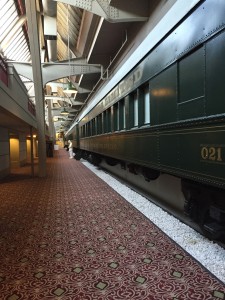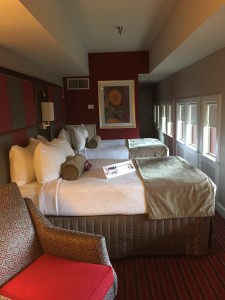 Rather than going through each of our 4 days I just wanted to outline the main highlights of our trip. Hopefully this will give you an idea of what you can do with your kids, you might be surprised!
Tony Diterelizzi is Aidan's favourite author and illustrator. Aidan fell in love with Tony's WandLa series and recently got a copy of his book The Realms. Aidan was over the moon when he found out that Tony was going to be a Guest of Honour. Luckily, Ray and I were able to score Aidan a ticket into Tony Diterlizzi's seminar about "drawing the fantastic". The age rating for this event was 6+ so we knew he would be allowed to attend, however we made sure that he understood that most of the people there would be adults, many of whom would be artists themselves. Aidan took his place in the class very seriously. I had the opportunity to sit just outside the door to make sure everything went ok and I got to witness just how supportive Tony DiTerlizzi was of Aidan. He was very encouraging and never talked down to him. He even got down on the floor.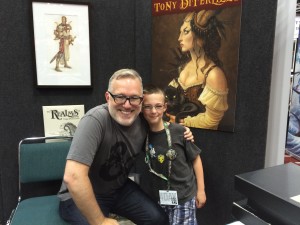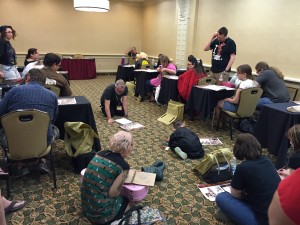 This is an RPG aimed at kids and families that is based on the Cypher system. It was a Kickstarter launched by Monte Cooke Games (MCG) and we backed at the play test level. Were able to obtain the play test version just before Gen Con. We ran through part of it as a family but we were eagerly looking forward to visiting the MCG booth and get a demo. First thing Friday morning we headed straight to the MCG booth and met Zoa. She ran an adventure for Aidan, Juliana and another little girl. The other girl had tried the demo so many times that Zoa created a brand new adventure for the kids! The adventure involved the mysterious disappearance of "papples", and illusions of giant pizzas. Zoa was fantastic with the kids.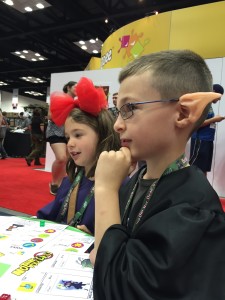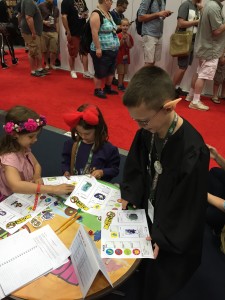 The Costume Parade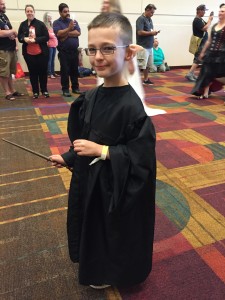 Both of my kids really wanted to take part in the costume parade this year. Juliana dressed up as Kiki from Kiki's Delivery Service and Aidan was a half-elf wizard. The parade was a lot of fun but next year I really need to take a costume for myself. Juliana got really nervous at the last minute so asked me to walk with her. It was a bit awkward being in the parade without a costume. At least I was wearing my new Doubleclicks t-shirt. Aidan had a great time wearing his pointy ears and robe and carrying his wand. About halfway through the parade I took his glasses off of him because everyone thought he was Harry Potter. I did warn him ahead of time that people might have trouble identifying him as a half elf but that is what he really wanted to be. He has decided that next year he will plan to dress up as a specific character.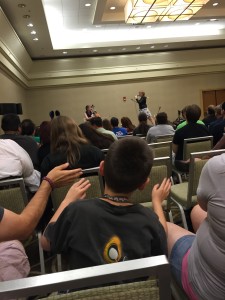 Friday night we got tickets to the Doubleclicks concert. It was pretty awesome because on our way to the concert we ran into our friends James (Living 4 Crits) and Jen so we all got to sit together. Actually to be more precise, Ray and I sat together, James and Jen sat in front of us. The kids, having decided that James and Jen were pretty cool,  sat themselves down with our friends…Aidan right in between James and Jen. He was pretty enthusiastic about the concert so I don't think they minded too much…at least I hope not! The Doubleclicks are pretty awesome. They are 2 sisters who sing pretty geeky songs but I really appreciate the messages that they try to convey with their music. There is a real focus on being yourself.
Playing Disney's the Last Parsec
Sunday was our last day at Gen Con. We were starting to get pretty tired but we saved the best for last. We managed to get into the "Disney's The Last Parsec" game run by James (the same James we sat with at the Doubleclicks concert). Ray and I met James last year when he ran the most amazing session of The Strange ever. We kept in touch over the past year and when we found out that he was running a family RPG session this year we thought it would be perfect for us. All four of us, plus another father and his son, joined James and Jen to play Disney characters trying to free Sonny Eclipse from a cave guarded by terrifying dinosaurs! It was great! Juliana played Stitch, I played Vanellope, Aidan played Baymax and Ray played Hero. We all worked together and Juliana saved the day!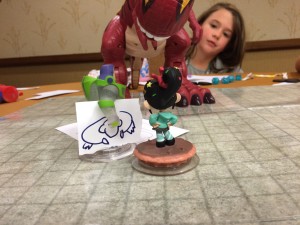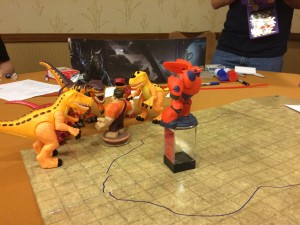 Those were my key memories from Gen Con this year. We had a blast and did so much more than what I mentioned above. We had so much fun playing tons of games in the exhibit hall, seeing all the costumes, trying out the fantastic restaurants and meeting lots of people. It was truly memorable. I can't wait to go back.